Posts for: April, 2019
By T.E.N. Family Dentistry
April 18, 2019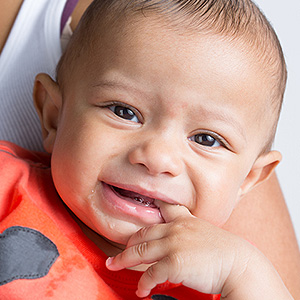 Although teething is a natural part of your baby's dental development, it can be quite uncomfortable for them—and upsetting to you. During teething, children can experience symptoms like pain, drooling or irritability.
Teething is the two or three-year process of intermittent episodes of the primary ("baby") teeth moving through the gums. These episodes are like storms that build up and then subside after a few days. Your aim as a parent is to help your baby get through the "stormiest" times with as little discomfort as possible. To that end you may have considered using over-the-counter products that temporarily numb irritated gums.
Some of those numbing products, however, contain a pain reliever called benzocaine. In recent years, this and similar ingredients have been found to increase the level of a protein called methemoglobin in the bloodstream. Too much methemoglobin can result in less oxygen delivered to body tissues, a condition known as methemoglobinemia.
This oxygen decrease can cause shortness of breath, fatigue or dizziness. In its severest form it could lead to seizures, coma or even death. Children and infants are at high risk for benzocaine-induced methemoglobinemia, which is why the U.S. Food and Drug Administration has banned marketing for benzocaine products as pain relievers for teething infants and children.
Fortunately, there are alternatives for helping your child weather teething episodes. A clean, chilled (not frozen) teething ring or pacifier, or a cold, wet washcloth can help numb gum pain. You can also massage their gums with a clean finger to help counteract the pressure exerted by an emerging tooth. Be sure, though, that you're not allowing anything in your child's mouth like lead-based paint that could be toxic. And under no circumstances should you use substances containing alcohol.
For severe pain, consult your physician about using a pain reliever like acetaminophen or ibuprofen, and the proper dosage for your child. With these tips you can help your child safely pass through a teething episode.
If you would like more information on helping your child cope with teething discomfort, please contact us or schedule an appointment for a consultation.
By T.E.N. Family Dentistry
April 08, 2019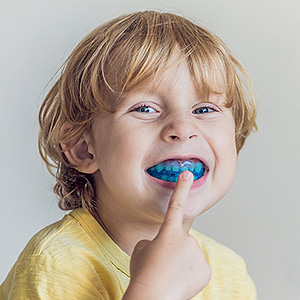 April brings the perfect weather to get outside and play. Fittingly, April is also National Facial Protection Month. Whether you prefer softball or basketball, skateboarding or ultimate frisbee, don't forget your most important piece of equipment: a mouthguard to protect your face and your smile!
In an instant, a blow to the mouth can cause a dental injury that is painful to endure and expensive to treat. In just about any sporting activity, your mouth could come into contact with a piece of equipment, another person or the ground. That's why the American Dental Association and the Academy for Sports Dentistry recommend using a mouthguard when participating in any of over 30 activities, including some that aren't typically considered contact sports, like volleyball and bike riding.
Common sense, observation and scientific research support the use of mouthguards during sporting activities—but are the ones you get from your dentist really any better than the kind you can grab off the shelf at a sporting goods store or drugstore? The answer is yes!
In a 2018 experiment, researchers created a model of the human head to test how direct impact affects the teeth, jaws and skull. They compared the effects of impact when using no mouthguard, when using a custom-made mouthguard available from the dentist, and when using a stock mouthguard. They also tested mouthguards of different thicknesses. The results? The experimenters determined that any mouthguard is better than no mouthguard and that custom mouthguards available from the dental office are more effective than off-the-shelf mouthguards in protecting teeth, jaws and skull from impact. They also found that the thicker the mouthguard, the better the protection.
Although custom mouthguards are more expensive than the kind you can buy at the corner store, the difference in protection, durability, comfort and fit is well worth the investment. We consider your (or your child's) individual needs, take a precise model of your mouth and provide you with a custom-fit mouthguard of the highest quality material.
Don't ruin your game. A mouthguard can go a long way in protecting your teeth and mouth from injury. If you would like more information about a sports mouthguard, please contact us or schedule an appointment for a consultation. To learn more, read the Dear Doctor magazine articles "Mouthguards" and "An Introduction to Sports Injuries & Dentistry."