Posts for: September, 2017
By T.E.N. Family Dentistry
September 28, 2017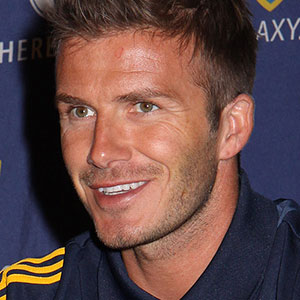 During his former career as a professional footballer (that's a soccer star to U.S. sports fans) David Beckham was known for his skill at "bending" a soccer ball. His ability to make the ball curve in mid-flight — to avoid a defender or score a goal — led scores of kids to try to "bend it like Beckham." But just recently, while enjoying a vacation in Canada with his family, "Becks" tried snowboarding for the first time — and in the process, broke one of his front teeth.
Some fans worried that the missing tooth could be a "red card" for Beckham's current modeling career… but fortunately, he headed straight to the dental office as soon as he arrived back in England. Exactly what kind of treatment is needed for a broken tooth? It all depends where the break is and how badly the tooth is damaged.
For a minor crack or chip, cosmetic bonding may offer a quick and effective solution. In this procedure, a composite resin, in a color custom-made to match the tooth, is applied in liquid form and cured (hardened) with a special light. Several layers of bonding material can be applied to re-construct a larger area of missing tooth, and chips that have been saved can sometimes be reattached as well.
When more tooth structure is missing, dental veneers may be the preferred restorative option. Veneers are wafer-thin shells that are bonded to the front surface of the teeth. They can not only correct small chips or cracks, but can also improve the color, spacing, and shape of your teeth.
But if the damage exposes the soft inner pulp of the tooth, root canal treatment will be needed to save the tooth. In this procedure, the inflamed or infected pulp tissue is removed and the tooth sealed against re-infection; if a root canal is not done when needed, the tooth will have an increased risk for extraction in the future. Following a root canal, a tooth is often restored with a crown (cap), which can look good and function well for many years.
Sometimes, a tooth may be knocked completely out of its socket; or, a severely damaged tooth may need to be extracted (removed). In either situation, the best option for restoration is a dental implant. Here, a tiny screw-like device made of titanium metal is inserted into the jaw bone in a minor surgical procedure. Over time, it fuses with the living bone to form a solid anchorage. A lifelike crown is attached, which provides aesthetic appeal and full function for the replacement tooth.
So how's Beckham holding up? According to sources, "David is a trooper and didn't make a fuss. He took it all in his stride." Maybe next time he hits the slopes, he'll heed the advice of dental experts and wear a custom-made mouthguard…
If you have questions about restoring damaged teeth, please contact our office to schedule a consultation. You can read more in the Dear Doctor magazine articles "Trauma and Nerve Damage to Teeth" and "Children's Dental Concerns and Injuries."
By T.E.N. Family Dentistry
September 13, 2017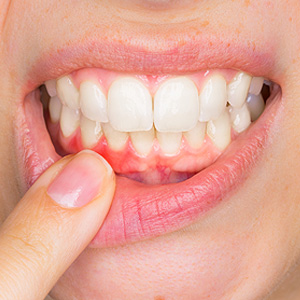 September is National Gum Care Month. Did you know that advanced periodontal disease is the number one cause of tooth loss among adults? Periodontal disease refers to any disease that affects the structures that hold the teeth in place, including gums, ligaments and bone. In its earliest stage, called gingivitis, the gums become inflamed. When it progresses to periodontitis, both soft and hard tissues that hold the teeth in place are affected, threatening the integrity of the teeth. Some people are more susceptible to periodontal disease than others. Here are some common risk factors:
Poor oral hygiene. Plaque buildup is the primary cause of gum disease. When life gets busy, we may be less diligent about our oral care. This allows bacteria in the mouth to form a biofilm (plaque), which causes inflammation of the gums.
Heredity: Some people are genetically more predisposed to gum disease. Look at your family history. Have any of your relatives had gum disease or lost their teeth?
Pregnancy. Gums are sensitive to hormone fluctuations, and it is not uncommon for pregnant women to experience an inflammation of the gums known as "pregnancy gingivitis." Gingivitis — characterized by red, swollen gums that bleed easily — is the beginning stage of gum disease.
Age: The chance of developing gum disease increases with age. Over 70% of Americans 65 and older have periodontitis, an advanced form of gum disease, according to the U.S. Centers for Disease Control and Prevention. This may be influenced by other diseases, medications that cause dry mouth, or other causes of plaque buildup.
Diet: Eating too many simple carbohydrates (those found in sugar, white bread, white rice and mashed potatoes, for example) is linked to chronic inflammation in the body, which increases the risk of gum disease.
Smoking: Smoking is a significant risk factor for the development and progression of gum disease. Since nicotine constricts blood vessels, smokers may not see the typical symptoms such as red, puffy, bleeding gums, so the disease may cause damage before smokers realize there is a problem with their gums.
Diabetes: Uncontrolled diabetes puts you at higher risk of periodontal disease. Not only can diabetes make gum disease worse, gum disease can make diabetes symptoms worse.
Our aim is not to scare you but to help you become aware of factors that can increase your risk of gum disease. Many of these factors are not under your control. However, you can do your part to prevent gum disease by staying on top of the things you can control. Let us know about any new medications you are taking, eat a balanced diet rich in complex carbohydrates and other nutrients and, if relevant, manage your diabetes and explore programs that will help you quit smoking.
Fortunately, good oral hygiene and regular professional cleanings can turn early gum disease around, so if you have any of the risk factors that contribute to periodontal disease, be extra diligent about your oral hygiene routine. And make sure you come in for regular dental checkups and cleanings. If you show signs of gum disease, we may recommend that you come in for more frequent cleanings.
To learn more about risk factors for gum disease, read the Dear Doctor magazine articles "Assessing Risk for Gum Disease" and "Pregnancy and Oral Health."